Airin Mitchell
LMT #24731
Airin graduated the massage therapy program at Rogue Community College in 1998, with 20 + years enjoying a variety of continuing education in the field.
It brings Airin great joy reducing peoples pain and stress. The human body and it's healing capacity never ceases to amaze her. She is constantly in awe learning new body work techniques. She specializes in Deep Tissue, Neuropathy massage, Psoas, Rotator Cuff and Neck concentrated therapy. Airin is currently advancing her skills in Fascial Energetics, Myofascial Release and Cranial Sacral Therapy. She blends many of her styles together to create a truly individual care plan for each client specific to their needs. And if a client is looking to just relax and unwind, she offers an incredible relaxing Swedish massage that will take your stress away!
Airin, as well as her parents, have lived with chronic back pain the majority of their lives. She has seen how massage and body work has aided in the reduction of her pain as well as her parents, and being able to provide pain relief to others fills her with a deep sense of purpose. Her love of massage deepened even further as her sister battled cancer. The neuropathy she suffered from chemotherapy caused her excruciating pain. Airin started performing neuropathy massage on her feet daily the last two years of her life. The amount of pain relief she received astounded and amazed her and filled her with more zeal to provide her comforting hands for the benefit of others.
Emalie Reid
LMT #27415
Emalie Reid has been practicing bodywork for over ten years now. As a recent LMT graduate from the RCC massage therapy program, bodywork is her bliss! She was self-taught in the beginning years lending her services to family and friends.
She is always expanding in this profession and continuing to learn how to better provide this service of healing bodywork. She is skilled in deep tissue modalities as well as overall body relaxation techniques. Emalie will also be offering hot stone therapy very soon!
Terrell Gill
LMT #26793
Terrell studied here in the valley at Rogue Community College in Grants Pass. He specializes in Deep Tissue and Trigger Point Therapy. He listens to his clients and tailors each massage to what they need. He developed a passion for massage therapy after he received his first massage and experienced the benefits firsthand. He learned from his massage therapist, and later his teachers, that massage isn't just therapeutic, but also relational.
His goal for each client is to provide a treatment tailored to their needs in a therapeutic and relational environment.
Terrell is currently enrolled in school working toward his goal of becoming a Physical Therapist.
Tarah Clarke
LMT #25534
Tarah takes a natural, relaxing approach to bodywork. She is trained in Lomi Lomi massage, a traditional Hawaiian massage that uses a combination of massage techniques to restore energy and soothe the body. Lomi Lomi is also known as the 'loving hands' massage. This name helps to explain its principles – the massage works gently yet deeply into the muscles with continuous, flowing strokes, allowing the recipient to relax and give in to the nurturing touch. She combines Lomi Lomi with Swedish massage for her own personal massage style that puts you into a state of deep relaxation.
Natalie Parker
LMT #26239
With a healing and soothing touch, Natalie Parker specializes in Swedish massage, deep tissue techniques, and trigger point therapy. Natalie's hands work wonders on tired muscles, melting away stress and tension. She graduated from Rogue Community College in 2020 and since then, she has learned to develop her strength to create a thorough and lasting massage.
Natalie's journey into the world of massage began with a passion for the power of touch. When you step into her tranquil sanctuary, you'll be greeted by her warm smile and calming presence. When you entrust your well-being to Natalie, you're not just getting a massage therapist; you're gaining a partner in relaxation. Her ability to connect on an intuitive level ensures that every massage experience is tailored to each individual and has them feeling seen.
Travis Whalen
LMT #20003
Travis is a northwest boy who has also lived in the Dominican Republic and Mexico. The Rogue Valley, however, with its beautiful mountains, wonderful weather, and laid-back people will always be home-base for Travis, his wife, and his four young children.
Whether he's backpacking or sitting in town, Travis loves good conversation. He believes clear communication is key to delivering tailor-made, therapeutic massage treatments. He uses a combination of modalities to achieve his unique treatment style and remains a student with an insatiable appetite for learning and growing.
Suffer from Headaches, Migraines or Jaw Disfunction?
Travis offers Intra-Oral Massage which has been helping clients finally find relief!
His focus is not only on reducing pain and increasing mobility in the treatment room, but he also emphasizes the importance of injury prevention through client education. He asks questions, and gives useful instructions on home and workplace ergonomics, use of proper body mechanics, movement and stretching exercises, and how to easily introduce healthy habits.
Need more time on the table to tackle life head-on? Ask about Travis's 3-hour treatments which have been utilized by MMA fighters, construction workers, and Weekend Warriors alike.
Samantha McIntyre
LMT #27383
Samantha loves working with people and working with her hands. She uses a combination of Deep Tissue and Swedish massage with the goal of relieving pain, muscle tension, and dysfunctional patterns in the body. Her goal is also to relieve anxiety and stress, which is so prevalent in our world today.
She's a jack-of-all-trades and has done many things in her life that have helped cultivate compassion, listening and communication skills, as well as a passion for learning. Outside of work she's a mother, a clay artist, and a lover of books.
Angie Milner
LMT #27245
Angie studied Massage Therapy here in the Rogue Valley at Rogue Community College. She uses a combination of Swedish, Deep Tissue, and Trigger Point Therapy to address any problems a client might have and loves to tailor each session to fit each individual clients goals.
She has always had a passion for making a difference in peoples lives and originally set out to be a nurse until certain circumstances drove her in the direction of Massage Therapy. She made the decision to switch from nursing to massage when she was a client receiving chiropractic care and massage therapy work. She wants to help make a difference in others lives by not only helping them to reduce their pain, but to be able to have a better quality of life.
Angie is currently out on maternity leave and will be returning later this year!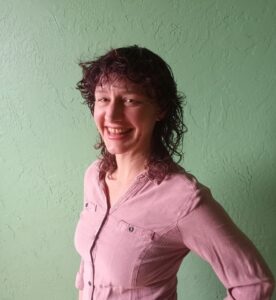 Jess Marvin
LMT #26549
Jess is trained in Swedish Massage, Trigger Point Therapy, Myofascial Release, Manual Lymphatic Drainage, Deep Tissue, and Asian Bodywork.
She is comfortable providing quality bodywork to people of all ages and body types with many different injuries, pathologies, and personalities. She is passionate about assisting clients toward their unique health goals.
Colleen Baehr
LMT #24538
Colleen is passionate for the health and well-being of others. She began her career in healthcare as a certified nursing assistant over a decade ago. She decided she wanted to do more for people and went back to school to become a massage therapist in order to expand her skills and experience in helping others.
Colleen graduated from RCC's massage therapy program and enjoys incorporating deep tissue massage for muscle tension and soreness, cranial sacral therapy for relaxation and stress relief, as well as integrated therapy and sports massage for athletes. Colleen is always eager to learn and enhance her skills to make her clients' experience epic!
Colleen's schedule is full and she is currently not accepting new clients.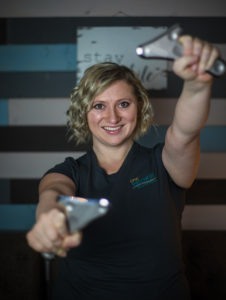 Kirsty Hicks
LMT #23646
Kirsty was born and raised in the Rogue Valley. She has always had a passion for learning about the human body and how it worked. While attending RCC's Massage Therapy program, Kirsty interned with Blake Knight to further develop her skills.
Kirsty combines modalities for an integrated therapeutic approach to give each client customized bodywork. Kirsty specializes in deep tissue massage. She is also an FMT Certified RockDoc offering RockTape kinesiotaping as an integral or stand-alone treatment.
In the words of one of her clients, "Kirsty is outstanding at 'deep tissue'. Not only does she identify problem areas, she strategically attacks them."
Kirsty's schedule is full and she is currently not accepting new clients.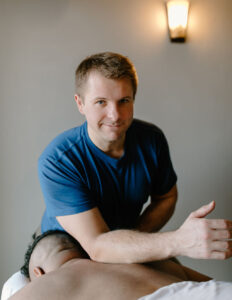 Blake Knight
LMT #20099
Blake specializes in deep tissue and myofascial release techniques. His work is a great asset to our clients who are overcoming chronic postural and pain patterns, as well as acute injuries. Blake is known for his use of Gua Sha (instrument-assisted soft tissue manipulation) to help break down scar tissue, increase range of motion, and decrease pain. He is also an FMT Certified RockDoc offering RockTape kinesiotaping as an integral or stand-alone treatment.
Massage has always been a pillar in Blake's life. He has personally experienced life-changing results from massage therapy and has developed a passion for helping others attain a greater level of fitness and enjoy a healthier and happier body. Blake won Medford's #1 Favorite Massage Therapist every year since 2014 until Bekah took 1st place for 2019, and he is so proud of her!!
Blake oversees the therapists and clinic. He is currently only accepting new clients for NeuX treatments.