Customized facials, Dermaplaning, Eco-fin paraffin alternative treatments, and full body waxing services available.

We are now offering facials using Skin Script. This professional, natural and cruelty-free skincare line uses a wide array of high quality, paraben-free ingredients including retinols, salicylics, and natural fruit enzymes to curate a completely customizable facial experience for every skin type! All of the products are chirally correct, meaning the molecules in the products have been modified to match the skin's molecules, resulting in better absorption and less irritation. Whether your skin is hyper sensitive, acne-prone, or aging gracefully, our esthetician will be able to create a personalized regimen that's right for you!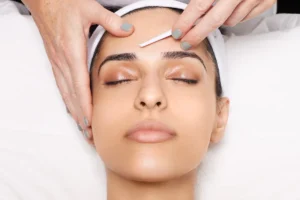 Dermaplane is a safe and effective exfoliation process using a sterile surgical scalpel. This service improves the texture of the skin, removes dead/dry skin, and removes vellus hair (peach fuzz). Creating smooth skin that glows, dermaplaning also aids in deeper penetration of facial products. This service is not ideal for clients with active acne. Schedule a dermaplane session alone or as Dermaplane Facial. A Dermaplane Facial includes steam therapy, a double cleanse, calming mask, arm/facial massage, and finishing products, with the possibility of using a gentle enzyme to dissolve any remaining dead skin.

Experience a natural, plant-based alternative to paraffin, which will leave your hands or feet feeling so soothed and moisturize. As you enjoy a relaxing hand or foot massage, your senses will be delighted with the aroma of essential oils (different options available). After the massage, your skin will feel soft and deeply hydrated.
Made with a luscious fusion of plant oils, including jojoba, coconut, shea, and sustainable palm.
The unique pre-measured cubes are sanitary and provide a rich, emollient alternative to paraffin treatments. No petroleum, artificial dyes, or synthetic fragrances.
Jynna Louise
FT-10226082
Meet Jynna! She graduated from Imani Institute of Cosmetology and is a proud Licensed Esthetician who wants to make you and your skin feel radiant from the inside out. She is passionate about making others feel cared for; she was a caregiver for the past 5 years. Her favorite service to perform is Dermaplane and she is Dermaplane Certified. In her free time, you can find her next to the redwoods or pouring paint. Jynna hopes to make you feel her bliss-like energy and fulfill your esthetic needs.