We are now offering Acupuncture treatments at Epic Wellness! Call or book online.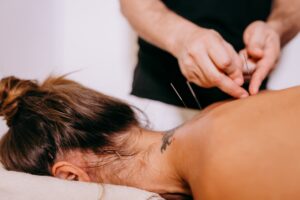 We are currently accepting Regence Blue Cross Blue Shield, Providence and ASH insurance, motor vehicle accidents, workers comp injuries, and cash patients for acupuncture. We are in the process of credentialing for other insurance companies, so stay tuned if you have Pacific Source, United Healthcare, and others.
Alexandria Guasco, LAc, MAcOM, Dipl.OM
AC208832
Alex is a licensed Acupuncturist and clinical herbalist in Oregon. She graduated with a Masters in Acupuncture and Chinese Medicine at Oregon College of Oriental Medicine (OCOM) which continues to be one of the top programs in the nation.
Alex has always been drawn to the potential of healing and living a vibrant life. After starting her own journey into nutrition and wellness practices 15 years ago, she personally knows that life has its ups and downs and can be challenging to handle alone.
Through her studies she learned how to utilize a variety of modalities to sustain health, longevity, and recovery. She has taken specialized training in:
● Kiiko Matsumoto Style Acupuncture — a very gentle yet effective needling style.
● Certified Heart Math Clinical Practitioner for "Stress, Anxiety, and Self Regulation"
● Certified MeiZen practitioner: Cosmetic Acupuncture and Weight loss.
● Shiatsu massage: incorporated into treatments as necessary.
● Non-insertive needling methods (ear seeds, Teishin, Tuning forks)
● Cupping, Gua sha, E-stim, and moxibustion techniques
● Herbal prescriptions
Her treatments are tailored to focus on who you are as a person and your individual needs.
They are always rooted to support your overall health goals, and regain strength and resilience.
She will create a treatment plan with you so you always have an active role in your recovery and
healing. She believes that each person has the innate power to heal, that through achievable
goals, routine changes, and consistency it will make all the difference in your health.
Conditions treated but not limited to:
● Acute and chronic pain
● Post-surgery + Stroke recovery
● Digestive Ailments
● Headaches + Migraines
● Nutritional support
● Fatigue
● Insomnia + Sleep difficulties
● Internal Medicine
● Respiratory/cold/flu support
● Mental health (stress, anxiety, depression, etc.)
● Gynecology (painful periods, menopause, etc.)
● Reproductive health
● Major life changes / transitions (relationships, health, etc.)
● She has a special passion for working with patients recovering or undergoing cancer
treatment