Have you heard of RockTape?
RockTape is brand of kinesiotape, manufactured weaving a natural-hybrid fabric so it stretches in one direction and not the other. This creates a bio-mechanical lifting mechanism that lifts the skin a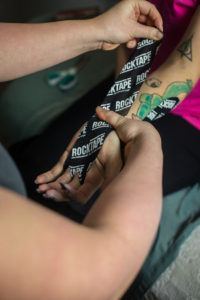 way from the soft tissue underneath, which allows more blood to move into an injured area to accelerate healing and recovery.
RockTape also promotes lymph drainage to remove toxins produced by the body during hard efforts. These combined effects are powerful: they allow the athlete to go harder for longer periods of time. Unlike compressions garments, RockTape can be applied to very specific areas of the body that are sometimes hard to reach, such as shoulders, knees, and joints.
Blake Knight currently offers RockTaping, and beginning January 2021 Kirsty Hicks will be offering RockTape services as well!
Common problems that can be addressed using Rocktape Kinesiology Taping include issues such as Ankle Sprains, Achilles Tendonitis, Golfers Elbow, Shin Splints, Low Back Disorders, Rotator Cuff Problems, Plantar Fasciitis, Swollen Ankles, Tennis Elbow, Calf Strains, and Carpal Tunnel Syndrome, just to name a few.